$149
Sale price
$169
Regular price
Unit price
per
SAVE 11%
Sale
Sold out
Free delivery on orders over $199
4 pcs - Wild Sockeye Salmon Portions 6oz, Boneless

2 pcs - Wild Albacore Tuna Half-Loins (Haidacore™), Hook & Line Caught 

4 pcs - Wild Pacific Cod Portions - 6oz each, Skinless, Boneless 
About this Healthy Pack
It's called Healthy Pack, because it's loaded it with simple servings of some of our most nutritious seafood we offer.  This lean protein pack makes healthy eating easy. 
Wild Caught Sockeye Salmon -

 

Wild Sockeye Salmon packs in over 2,400 mg of omega-3 fatty acids per 6 ounce serving and is a rich source of B vitamins (especially vitamin B12 at 133% daily value [DV]), selenium, and phosphorus. Salmon is also a good source of vitamin D, which is important for healthy bones. The daily recommended value of vitamin D is 400 IU for adults and children ages 4 and older. A 3 ounce serving of salmon contains 570 IU of vitamin D
Wild BC Troll Albacore Tuna - 

 

While many tuna's are high in mercury, our Haidacore™ Tuna gets a Super Green rating as long as (and this is the clincher) it is "troll- or pole-caught" in British Columbia. The reason: Smaller (usually less than 10 kg), younger fish are typically caught this way (as opposed to the larger fish caught on longlines). These fish have much lower mercury and contaminant ratings and have high omega-3 counts. In fact, BC health no longer imposes restrictions on tuna consumption from BC waters (including children and pregnant women).

Wild Pacific Cod - This flaky white fish is a great source of phosphorus and niacin, Pacific Cod is one of the leanest sources of protein - a 6 ounce cooked portion contains 30 to 40 grams of protein with only 1 gram of fat. Cod is also an excellent source of vitamin B12, with one serving containing a little more than 30% of the recommended daily value
All products are certified Ocean Wise
View full details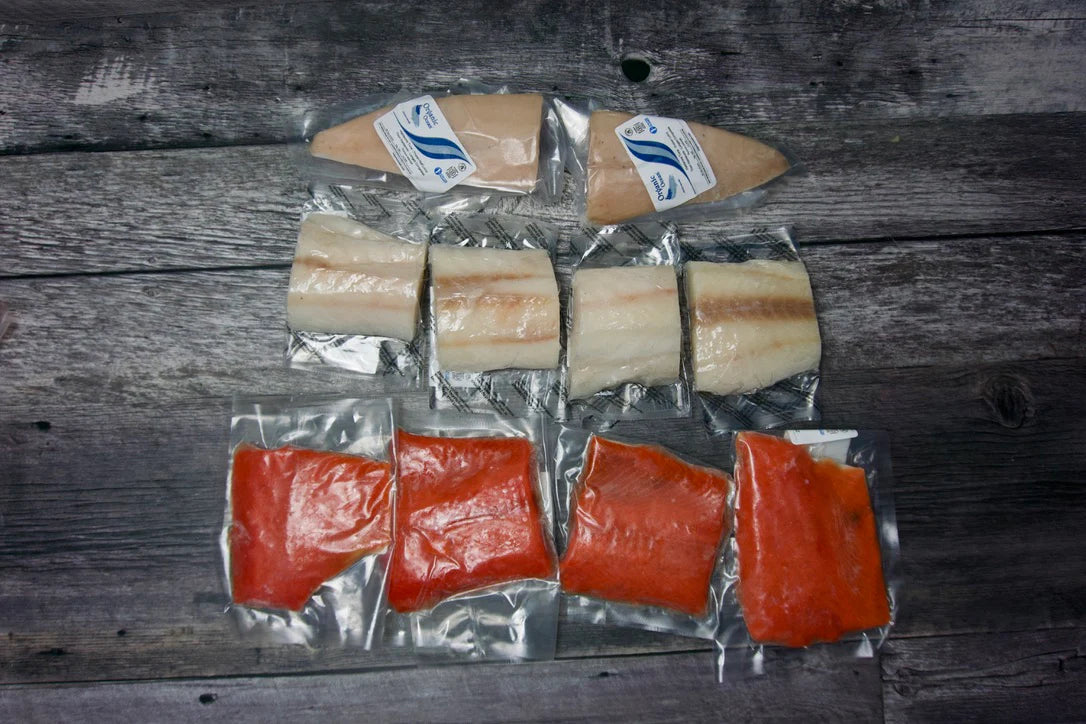 ★★★★★
"Farm 2 Fork is the real deal. I've tried similar delivery services, butchers, grocery stores. None compare."
Jon S.
✔ Verified Buyer
★★★★★
"Been ordering from Farm2Fork for several years now, easy to order, quick delivery and always top quality meats."
Andrew S.
✔ Verified Buyer
★★★★★
"Purchased the angus steaks, amazing flavour! Quality cannot be beat! Courteous and fast delivery too!"
Kyle J.H.
✔ Verified Buyer
Our Guarantee
Barn Door To Your Door Service

We are the "to" in Farm 2 Fork. Select the products you want and we'll deliver them to your home or place of business.

With our professional, reliable delivery you can skip the supermarket and get right to the good stuff.

Only-If-You're-Thrilled Guarantee

We want you to shout your love for our products from the rooftops. If you aren't completely satisfied with your order, we'll give you a full exchange.

Our quality meat and seafood products are flash-frozen and vacuum-sealed to lock in freshness for up to 180 days from the date of purchase.

No Contracts, No Subscriptions, No Problem

You deserve to have exactly what you want, when you want it. That's why there is no commitment required.

Simply place your order any time from the comfort of your couch (or kitchen, or office – we aren't picky) and delicious meat and seafood will arrive. It's honestly that simple.
Frequently asked questions
Where do we deliver?

We offer regular home delivery to all locations in Ontario, including Ottawa and Toronto. In addition, we deliver to Montreal and surrounding areas. We are expanding our delivery area very soon. Sign Up for our email newsletter to keep up-to-date with the latest Farm2Fork news. If you have any questions, please email us at info@farm2forkdelviery.ca.
Is there a minimum order for delivery?

Our minimum order for delivery is $199. Delivery is FREE!!!
Do we have retail store or pickup location?

We do not have a retail storefront location however we do offer pickup. If you place your order in advance, you can pick up at our warehouse at 3150 Hawthorne Avenue in Ottawa.
Do we have to be home to receive delivery?

We prefer that someone is home to receive your order. If you are comfortable with your order being left at the door, we are happy to do this and ask that you leave a cooler at the door. Please note that the order is not left at the door in an insulated box. We ask that you notify us in advance that you prefer to have the order left at the door