Skip to product information

$199
Sale price
$299
Regular price
Unit price
per
SAVE 33%
Sale
Sold out
A porterhouse steak is a large, premium cut of beef that is known for its combination of two different cuts: the New York strip and the tenderloin. It is often considered one of the finest cuts of steak due to its size and the quality of meat it contains. The porterhouse steak is typically cut from the short loin of a cow and includes a T-shaped bone, which separates the two cuts of meat.
No Antibiotics

No Hormones

Non-GMO
Free delivery on orders over $199
For a limited time save $100 on a box of Grass Fed Porterhouse Steaks
We locked in some great savings on premium all-natural & delicious 

Porterhouse

 Steaks, and we're again passing the savings on to you. Treat yourself and your dinner guests to something special 
You get:
6 Steaks (20 oz.)
Grass Fed & Finished
AAA Grade Beef
Aged 28 Days
Flash frozen for peak freshness
The larger portion of the porterhouse steak is the New York strip, which is a flavorful, well-marbled, and tender cut of beef. The smaller portion is the tenderloin, which is extremely tender and often referred to as filet mignon. This combination of two different cuts provides a variety of textures and flavours, making it a favorite among steak enthusiasts.
Porterhouse steaks are often grilled or pan-seared and are typically served with simple seasonings such as salt, pepper, and maybe some butter or a sauce. The cooking method and doneness level can vary according to personal preference, but it's important to cook the steak to the desired level of doneness to fully enjoy its rich flavour and tenderness.
View full details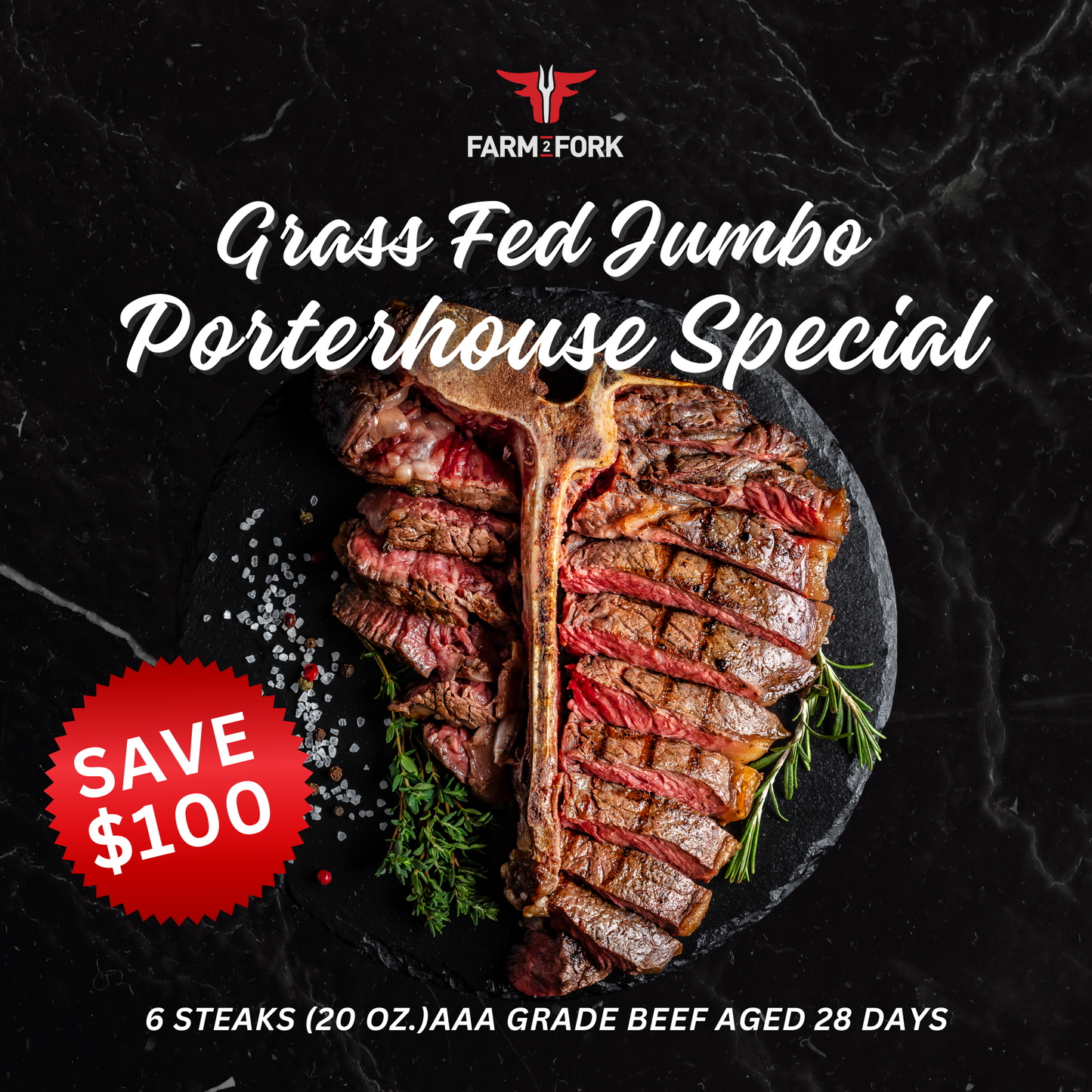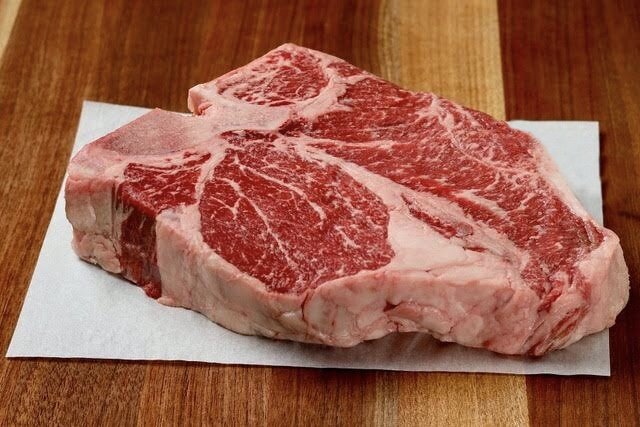 ★★★★★
"Farm 2 Fork is the real deal. I've tried similar delivery services, butchers, grocery stores. None compare."
Jon S.
✔ Verified Buyer
★★★★★
"Been ordering from Farm2Fork for several years now, easy to order, quick delivery and always top quality meats."
Andrew S.
✔ Verified Buyer
★★★★★
"Purchased the angus steaks, amazing flavour! Quality cannot be beat! Courteous and fast delivery too!"
Kyle J.H.
✔ Verified Buyer
Our Guarantee
Barn Door To Your Door Service

We are the "to" in Farm 2 Fork. Select the products you want and we'll deliver them to your home or place of business.

With our professional, reliable delivery you can skip the supermarket and get right to the good stuff.

Only-If-You're-Thrilled Guarantee

We want you to shout your love for our products from the rooftops. If you aren't completely satisfied with your order, we'll give you a full exchange.

Our quality meat and seafood products are flash-frozen and vacuum-sealed to lock in freshness for up to 180 days from the date of purchase.

No Contracts, No Subscriptions, No Problem

You deserve to have exactly what you want, when you want it. That's why there is no commitment required.

Simply place your order any time from the comfort of your couch (or kitchen, or office – we aren't picky) and delicious meat and seafood will arrive. It's honestly that simple.
Frequently asked questions
Where do we deliver?

We offer regular home delivery to all locations in Ontario, including Ottawa and Toronto. In addition, we deliver to Montreal and surrounding areas. We are expanding our delivery area very soon. Sign Up for our email newsletter to keep up-to-date with the latest Farm2Fork news. If you have any questions, please email us at info@farm2forkdelviery.ca.
Is there a minimum order for delivery?

Our minimum order for delivery is $199. Delivery is FREE!!!
Do we have retail store or pickup location?

We do not have a retail storefront location however we do offer pickup. If you place your order in advance, you can pick up at our warehouse at 3150 Hawthorne Avenue in Ottawa.
Do we have to be home to receive delivery?

We prefer that someone is home to receive your order. If you are comfortable with your order being left at the door, we are happy to do this and ask that you leave a cooler at the door. Please note that the order is not left at the door in an insulated box. We ask that you notify us in advance that you prefer to have the order left at the door